About Us
"People Helping People Put the Pieces Together" has been our motto since 1991.
CompuTrain has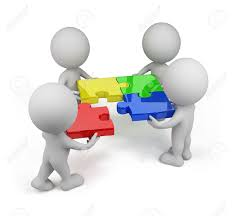 developed its reputation as a professional training organization based on high caliber training, quality service, and affordable training venues. This value-oriented approach has enabled us to cultivate longstanding relationships with our clients which continue to thrive due to our win-win strategy.
Whether you are seeking Microsoft Office, Microsoft Power BI, or Business Skills classes, we 100% understand that your time is valuable, and time spent in the classroom away from the office absolutely has to be time well spent. This mindset is the backbone of our success strategy.
Our Success Strategy
In-Person Training
Without exception, every CompuTrain class is an In-Person, instructor-led training class (not virtual/not remote). Your instructor is inside your classroom facilitating your class face-to-face.  We firmly believe the student "take away" from In-Person classes far exceeds that of the remote classes now quite commonplace in our industry.  In short, an In-Person training class venue is unparalleled in enabling our students to achieve their important goals.
Focused Course Offerings
CompuTrain offers Microsoft Office, Microsoft Power BI and Business Skills training classes. We are specialists in these areas. By design, our course offerings only include content in which we are subject matters experts.  We do not believe in being everything to everybody.
Customized Learning
CompuTrain classes can be fully customized to enhance the learning experience for students from Fortune 500 companies and small businesses alike. Examples include integrating company-specific data files into our class exercises, deploying productivity coaches at client sites, and designing modular courses to tackle the most pressing client needs. The ultimate goal of any customized venue is to ensure the successful transition from the classroom back to the work environment such that students are immediately applying what is learned in class.
Our Customer is our Number One Priority
Our success is measured by our clients' successes. While we are confident your training experience with CompuTrain will always exceed your expectations, we have taken additional steps to further ensure your success, including:
My CompuTrain Training Account (MyCT):  All CompuTrain students are entitled to several valued-added benefits, including monthly specials available only through an MyCT account. Through MyCT, students track and manage their entire CompuTrain class history and activity. Creating an account is quick, easy, and free!  Simply click here for more complete details.
Self-Assessment Tool:  Our Self-Assessment Tool is a quick, easy, and effective means of determining which level class (i.e. Introduction, Intermediate, Advanced etc…) is best for a given student based on his or her current skill set. If you are attending the proper class, you enhance your chance of success and your return on investment.
100% Satisfaction Guarantee:  Students may re-take the identical class offered on our Public Class schedule at no-charge within 90-days of his or her original class date.
Company Certifications
CompuTrain is a Microsoft Certified Silver Partner with a Learning Competency.
Woman-Owned Small Business
CompuTrain is classified as a HUB and is also certified as a small, woman-owned business by the State of Texas.
Our Leadership Team
Management
With more than 40 years of in-depth industry experience, the CompuTrain management staff is truly dedicated to your success.  We will always make strategic recommendations in the areas of course content, on-site implementations and migrations, management of employee/student expectations and responsibilities, and optimal scheduling techniques.
Instructors
CompuTrain instructors are Microsoft Certified Trainers (MCTs) and are an integral component of our team.  Each instructor is highly experienced in his or her field of expertise both inside and outside of the classroom. They are engaging as well as passionate about their craft.
Our Promise
We promise to always be dedicated to your immediate and long-term training goals, and we stand behind our training.  We want your business today and also for the next 20 years and beyond.  We understand that your time and your employees' time are extremely valuable.  With this in mind, we will work hard to earn your trust and develop successful training strategies for you and your organization.